updates:
Thursday, January 29, 2009 5:58 PM
does anyone care/want to know what i think about the current season of top chef? i notice lots of blogs discussing it, so i thought i'd, sort of, informaly try and get you guys involved in the process more. if you don't want to talk about the show that's fine, too.
while we're on the subject,
this is a really good recipe
i found online.
also, if you're reading this and you're james g, melissa g, mary g, michelle g, chelsea & jason please come visit me this weekend. we can watch the superbowl! and eat chicken wings!!! i haven't had chicken wings since monday. i don't know if i'll make it to superbowl sunday. actually, lets go to tallahassee to watch it b/c there are no good chicken wings in apalach. of course, all the good wing places will be packed for the superbowl. Dilemarrgh!
(link to this post)
|
---
Thursday, November 20, 2008 10:06 AM
i don't have much time b/c i'm really really hungry.
a crazy guy drove a semi into the bank downstairs
. the girls & i got woken up by deputies beating on our door. no damage to our apartment or any of our stuff. so that happened.
i went to new york to visit those guys. we had a really great time, i took a few pictures on touch push, but i have to keep him away from my laptop or i'll lose everybody's phone numbers again.
i went to london to visit emily. we went to parliment, we saw the new james bond movie (i fell asleep, but have since seen it again w/ dad and stayed awake and it was really good), we ate amazing curry and made dinner at the marder's apartment and it was awesome. we saw a concert at the dublin castle in camden, and all the bands pretty much sucked except for
"the soviets" from scotland
.
emily took the pictures b/c she's got the skills in that department. she's sending them to me. you'll see them soon.
i'm sorry to have to cut this extremely important post short, but i have to drive to st george isalnd to get chicken wings.
Labels: adventure, apalach, fire, london, rock music, truck, wings
(link to this post)
|
---
Friday, November 07, 2008 11:40 PM
no sleep til brooklyn
i really am going to sleep, though. i promise. as soon as this is over.
so, how's everybody? let's see...been kind of a slow news week. not much really going on. i've had a fairly uneventful few days. yesterday i worked, hung out. wednesday i worked. tuesday i scrambled all over apalachicola leaving door hangers on doors and dropping off waters and obama signs and stickers and trying to see if franklin county is really as red as everybody says. it is. good news, though, is that Barack Obama is our new president. Carol Browner is on his transition team. i babysat for her son one time.
i started my webpage seven some odd years ago (if you can find the archives from the old pitas.com page, that would be a trip). I renamed it ponder for america about 5 years ago when i endorsed Howard Dean for president. the only time i have ever censored myself was when it was suggested i not publish my "Charlie Crist: Openly governor" post. Ponder for America looks forward to maintaining a rambling, slack and nonsensical eye on politics during the Barack Obama presidency. just because i think the guy is completely awesome does not mean i will not post funny pictures of him should any ever be taken.
at home, the election news was not celebrated in the manner that many of you would probably imagine. as it turns out, Allison isn't much of an Obama fan. so i pretty much have left the whole subject alone. until now...
James Ponder's Celebratory World Tour!
we're getting out of the "real" America and heading to the elite apple, New York City! one day is plenty of time to eat all the stuff i want to eat, meet all the peeps i want to meet and rep karaoke so you know i'm street! no time to waste; the mothership is calling...
JPCWT Pt. II!
I like to listen to music from all over the world, especially the UK b/c it's really good and it's in english. therefore i'm making my pilgrimage to London, and the best part is i have a slightly-native guide. my sister, Emily! she's going to show me where they punish the ax-murderers and how to eat food in GMT. we also get to ride a serpent through the chunnel and visit Paris, France! i think that should finally drive all the right-wingers away from my webpage. as if any of my 3 readers could be described as right-wing. right-honourable, maybe. or maybe hot-wing. i wonder if they eat chicken wings in london. they don't eat them in italy. i eat them here, though.
well, long story short, Barack Obama is the new president. p4usa has never ended a blog post that way. i'll have to do it more often. it will be accurate for another four years. by then i will have figured out
web 2.0
Barack Obama is the new president.
Labels: adventure, apalach, cool people, election 2008, italy, karaoke, politics, wings
(link to this post)
|
---
Friday, October 03, 2008 11:11 AM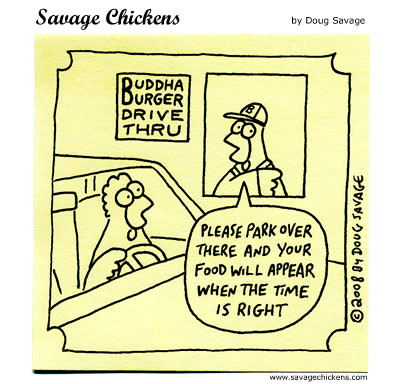 i'm still hungry and now all i want is chicken wings. so i'm off to st george island.
Labels: wings
(link to this post)
|
---
Monday, March 10, 2008 1:28 AM
My Last Supper
there are new pictures on
my flickr
page, but flickr is still spelled stupid. i want you all to know what i look like so you don't think i look like tyler florence.
there's nothing wrong with him. except that he looks more like a chili-eating parrot than he looks like me. Tyler Florence would eat fried chicken for his last meal, according to the
cool book
Allison got me for March Tenth. I will now answer the questions put to famous chefs in the book:
What would be your last meal on earth?
knowing my luck, it'll be a crummy sandwich or lame potatoes or something. If I could choose, I would have raw oysters (not too rainy, shucked myself, Crystal hot sauce, saltines), buffalo wings (sauce not broken, juicy/crispy, more flappy parts than drumettes, bleu cheese dressing), an awesome burger (med rare, dijon mustard, perfect tomato, crispy lettuce, poached egg, pickled jalapeno, crumbled potato chips[Ruffles], American cheese, puffy bun with no sesame seeds grilled on the flattop with clarified butter), Dad's BBQ chicken wings, Barnaby's pizza (sausage & mushroom, made by the tall dude not the fat guy) & mexican chocolate & fresh macaroons (no less than 2 minutes old) for dessert. If we could get some Waffle House hashbrowns to absorb what ever drips off the wings and burger that would be great. and plenty of nigiri, especially scallop. and a caja china pig. and risotto with like a whole tin of saffron in it. and pan bagnat the way
Jaques Pepin & Julia Child made it
. and fiddle heads. and artichokes the way mom used to do them. if i still have room i would like a chili dog with cole slaw and fresh crazy fruits like lychees.
what would be the setting for the meal?
we would enjoy the first couple courses al fresco at Kleeman Plaza, then head into the left side of Barnabys and spread out across two tables.
what would you drink with your meal?
I would like to have some cold Abita Amber with my oysters & wings. burgandy with the burger (from some vineyard & vintage i could never afford) & some heavy duty italian red with the pizza. plenty of dry champagne before and after each course, and pitchers of Arnold Palmer. ice cold 2% milk with the macaroons.
would there be music?
we'll have Emily put together a good shuff, and then roll ourselves to the GbV reunion show at the old Cow Haus after dinner. no TV.
who would be your dining companions?
with friends like mine, who needs dead philosophers and famous people? Adlai Stevenson would be cool, though. and Princess Grace Kelly. That would probably be what killed me, watching Grace Kelly eat chicken wings. or maybe the chicken wings themselves.
who would prepare the meal?
not me! i'll make the bleu cheese dressing and sabre the champagne but thats it.
Labels: Barnabys, beer, cool people, GBV, last supper, wine, wings
(link to this post)
|
---